We offer a full line of services to individuals and to gyms serving the Southwest Florida fitness community!  
Personal Training (Individual Instruction)
Personal Training is really the "heart" of Tony DiCosta Fitness. Included in each Personal Training Package (either at an area gym or your community fitness center) you receive the following:
One-on-One personalized training instruction
Consultation determining your fitness goals
A training program custom-designed for your needs and schedule
Flexibility training program with handouts
Personalized warm-up routine instruction
Establishment of your Caloric Maintenance Level with suggested changes to meet your goals
Dietary examples to meet your training needs and ideal target weight
Supplement suggestions appropriate to your age and specific needs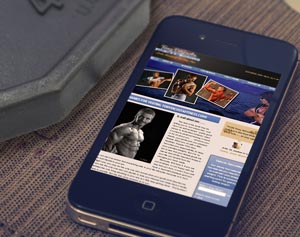 Distance Training and Consultations
We all need a little help sometimes! I get frequent requests for training advice from many different parts of the country. Unfortunately I can't be at every gym to provide personal on-site training wherever it is needed but I can help out via email and text messaging and even the visual mediums of photography and video that are at everyone's fingertips these days.  From program design and diet advice to contest prep I am just a cell phone or laptop away. Pricing: $40.00/hour.
Flexibility Training (1 hr. stand-alone specialty training session)
Remaining flexible is essential to any fitness program and to your overall health and resistance to injury as well. This special one-hour Flexibility Training course will teach you techniques that will last you a lifetime. You will master a series of dynamic stretches (over 15 movements) ensuring day-to-day "Real World" functionality while serving as the perfect warmup whether you are headed to the weight room or a ballroom dancing session. Includes printed handout to follow on your own. Special Price: $75 for an hour (regularly $85-$95). This exact program has protected me for decades while I trained at an extremely high level for national competitions and photo shoots. Call today for an appointment.
Corporate Training and Group Seminars for Gyms
Custom seminars and group training sessions for your gym or fitness group. Informational seminars can be custom made for any age group looking to learn more about different training types and will include Q&A sessions. Also available are one-hour full-body strength and physique classes using "bands" (a great pump and a surprisingly effective workout!) Also, I can provide promotional materials for print, Facebook or your website (as shown at left). Call for details.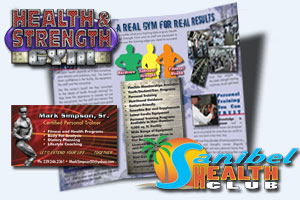 Graphic Design and Copywriting
From logo design to brochures to business cards and advertising, Tony DiCosta Fitness has the experience to meet the very specific needs of fitness-oriented businesses.  We can help you with everything from store signage to a revamp of your Facebook page (extremely important these days) or a redesign of your website. We can also provide the high-quality photography that is essential for a professional image. Give us a call to discuss your needs, big or small.
Group Flexibility Class
A fun and healthful hour of class training and flexibility work. Over 15 stretches covering every muscle group in the body. Flexibility training is widely known for its ability to promote a sense of well-being. Your gym members (especially the over-50 crowd) will appreciate the benefits of must-have flexibility training for many years . . . and they will remember that your gym had the foresight to offer such a class to them.