---
Corso Photographic: Physique Photography at its best
I could not possibly look as good as I do in so many of the photos on this site without the outstanding photography of my good friend, pro photographer Desiree Duggan.

---
I met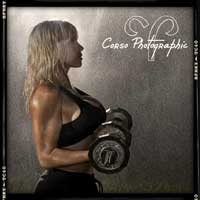 Desiree Duggan in 2009. We trained in the same gym and I noticed that we shared a mutual interest in photography. Des was a professional wedding photographer at the time and I was just getting ready to set out on my journey of physical transformation. Though I have had many photographs of my own published, I knew that to try and document my own journey would have been foolish. Des has a great "eye," is comfortable on either side of a camera and was really interested in delving deeper into the realm of physique photography. And delve she did, studying the best bodybuilding photographers of our times and working tirelessly to perfect her new craft. Always technically proficient with a camera, Des went on to master the specialized field of physique photography with its unique use of lighting, muscle display and model prep.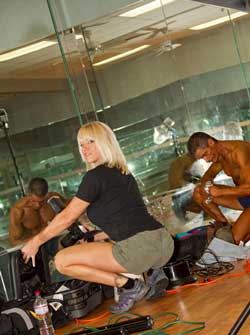 Des and her company, Corso Photographic, have gone on to photograph hundreds of competitors in dozens of contests and in one-on-one shoots across the country with the results appearing prominently on the pages of many national publications, including (to name just a few) Iron Man and Planet Muscle magazines. If you need a great photographer, I can't recommend anyone more highly. Click on the Corso logo (above, left) to visit her website and find out more for yourself (or just to enjoy some stunning physique photography).
On a personal note: I have spent many hours with Des in the course of photographing my fitness odyssey over the last few years. She has pushed both of us to levels I did not imagine were possible. But far more important to me than even the irreplaceable images is the friend I gained in Des. Unless you are blind, you have probably noticed that she is the most beautiful photographer around; but what you can't see, unless you get to know her, is what a beautiful person she is. And that transcends her gifts on either side of a camera.
Thanks for everything, Des.
I really have to add . . . .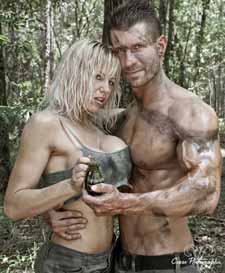 It just doesn't seem right to mention Des and not include her soulmate, Chad "The Natural One" Shaw. The subject of many of Corso Photographic's portraits, Chad is one of the most "Inspirational" athletes on Bodybuilding.Com and is a terrific asset to the bodybuilding community, generously sharing his wealth of practical knowledge of the sport both on his website and through his newsletter. You can visit Chad's uniquely helpful website by clicking Here.